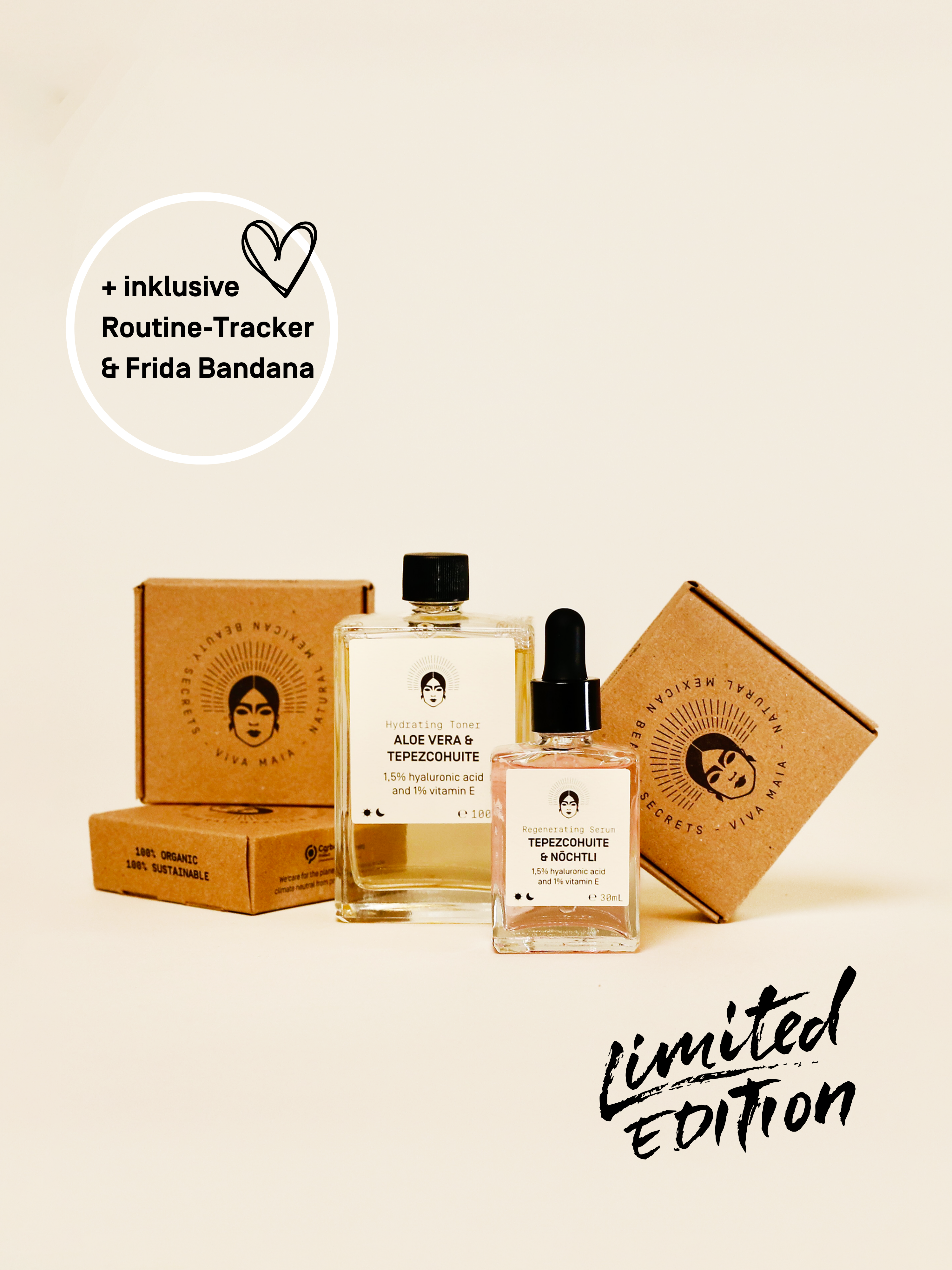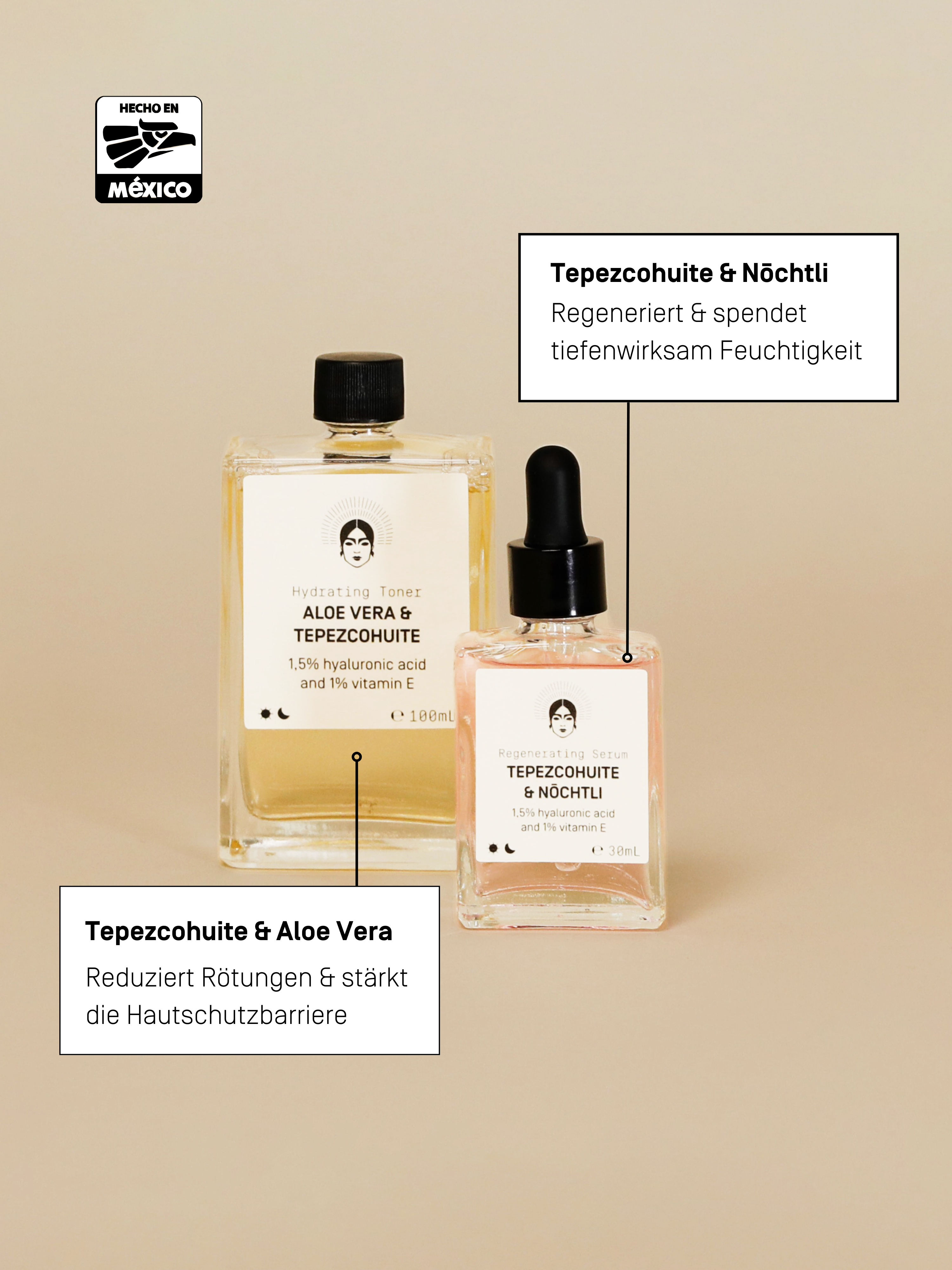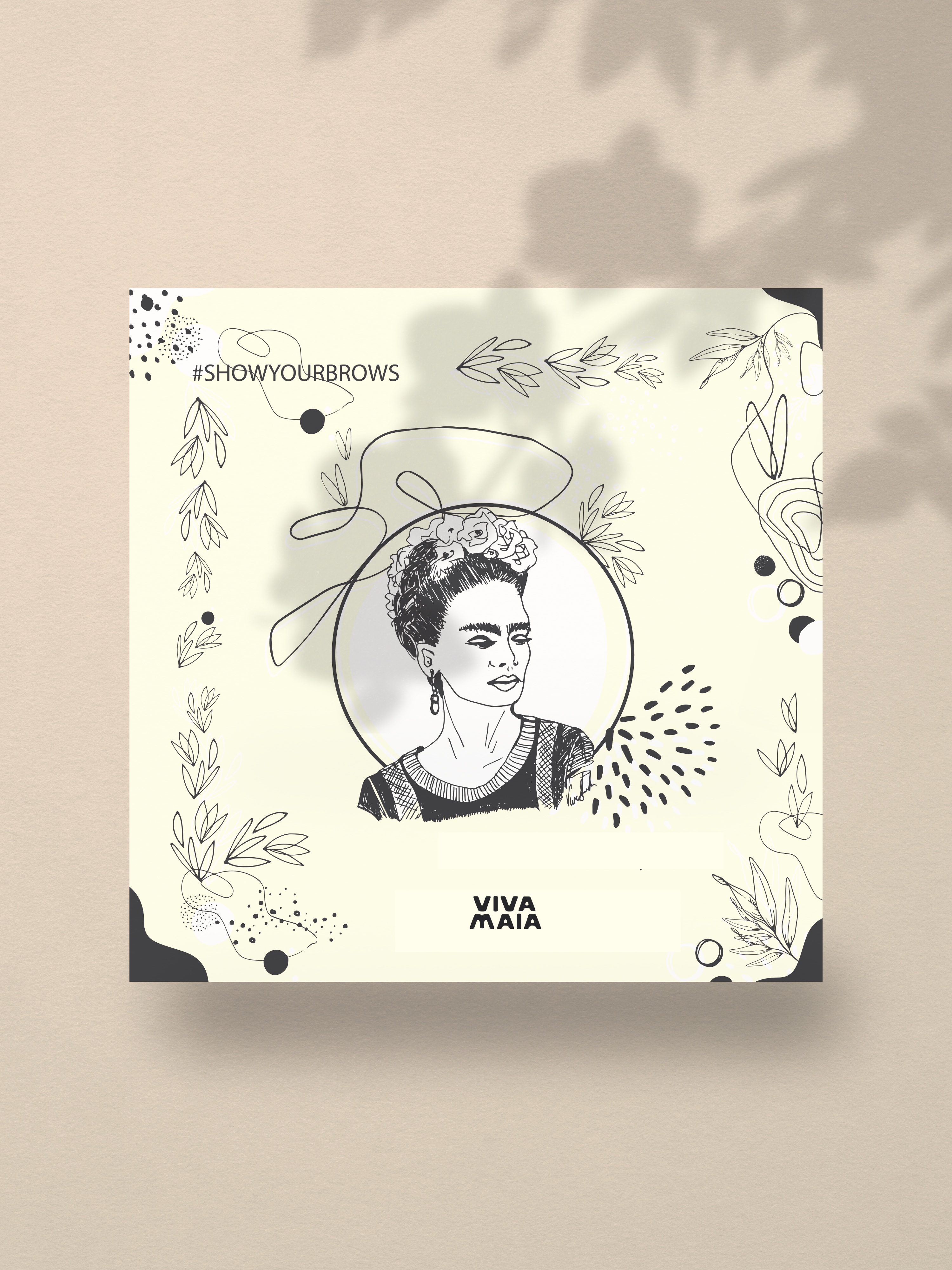 Limited Edition: El Grito Set
---
Sustainable
Natural, vegan & climate neutral
Handmade
Created in our factory in Mexico
Lasts 3+ months
Enough for 100 applications
Express shipping
2 to 4 business days in 🇩🇪. Read more about shipping here.
Social
Read more about the social project here
Free trackers
Track the success of your routine
Limited offer 500 pieces available. The set contains:

Regenerating Bar Cempasúchil & Mamey*: Regenerating cleansing

Boosting Bar Achiote: Anti-oxidant cleansing in the morning

Tepezcohuite peeling: skin-refining peeling for face and body

Aloe Vera & Tepezcohuite Toner: Hydrates and protects the skin

Tepezcohuite & Nōchtli Serum: Regenerates and nourishes the skin

Limited Frida bandana made from 100% cotton

Tracker & skin care guide to download
All products are 100% natural and highly concentrated. 100% made in Mexico.
*Frida's beauty secret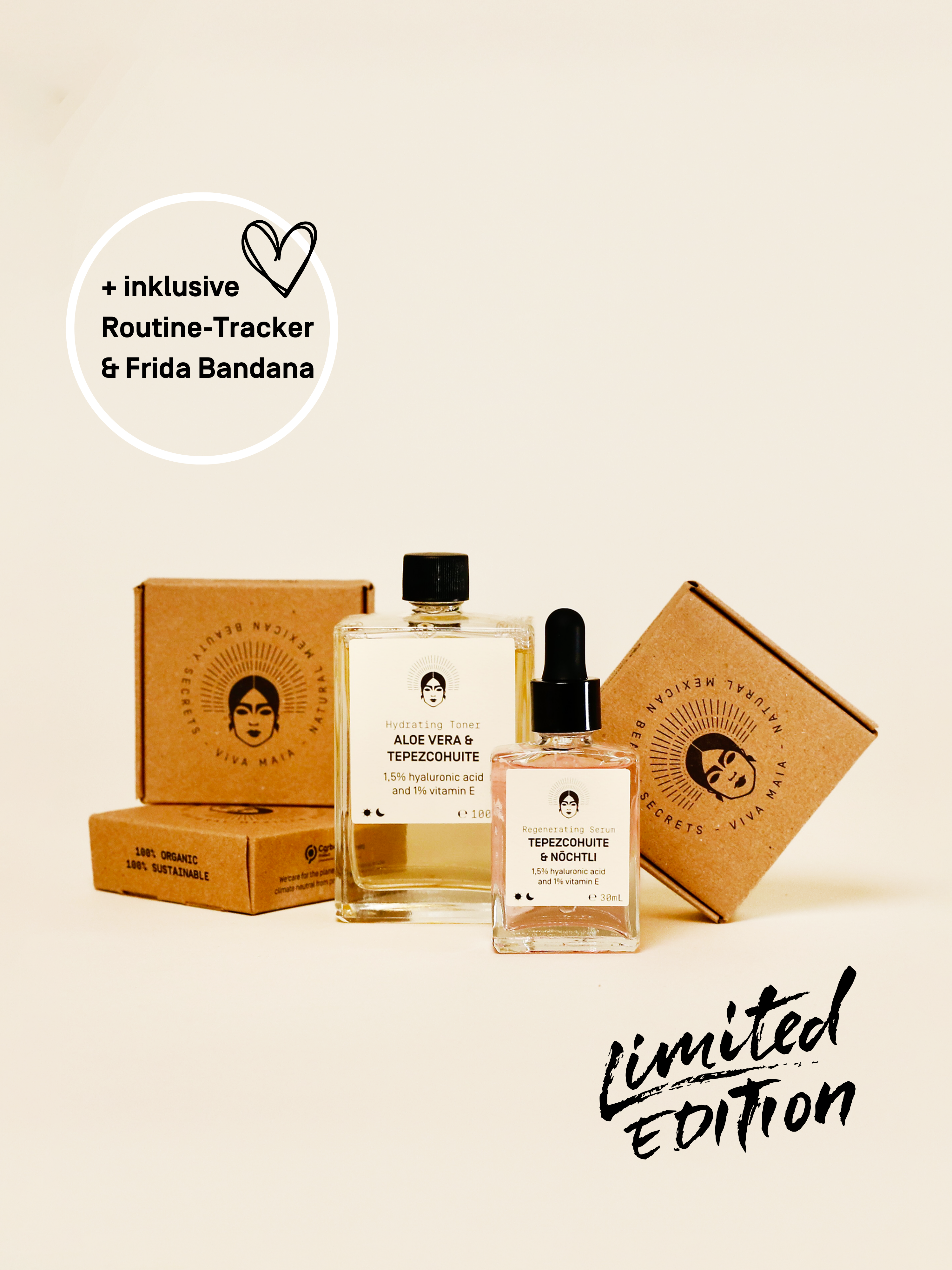 What does the set include
How to use this skincare routine for morning and evening:

1. Daily cleansing:
In the morning, cleanse your face with the Boosting Bar Achiote. In the evening, cleanse your face with the Nourishing Bar Guayaba & Maiz.

Apply the foam to your face and massage it in. Remove after 15 seconds with lukewarm water.

2. Exfoliate 2 to 3 times a week
Exfoliate your facial or body skin with the Tepezcohuite peeling.
Face: Apply the foam and massage it in briefly. Do not use any other bar beforehand. Remove after 15 seconds with lukewarm water.

Body: Run the bar directly over the areas of skin you want to exfoliate. Remove after 15 seconds with lukewarm water.

3. Toner:
In the morning and evening after cleansing, apply 2 to 3 drops to the palm of your hand and massage it into your neck and face.

4. Serum:
Apply 3 drops to the face and neck in the morning and evening after toner and massage in.

If necessary, you can then use a natural moisturizer in the evening and in the morning you should apply SPF to protect your skin from UV rays.
This Mexican skincare routine is suitable for all skin types and has many benefits for your skin:

1. Protects:
The Boosting Bar with Achiote provides gentle, anti-oxidative cleansing in the morning.

2. Regenerates & nourishes:
The Regenerating Bar with Cempsúchil Maiz refines the complexion, reduces pigment spots and evens out the skin tone.

3. Exfoliates and regenerates:
The Exfoliant Bar with Tepezcohuite exfoliates and renews your skin, for finer pores and a firmer complexion.

4. Balanced:
The Aloe Vera & Tepezcohuite Toner strengthens the skin barrier and thus refines your skin's appearance.

5. Regenerates:
The Tepezcohuite serum stimulates the regeneration of skin cells, minimizing fine lines and impurities.
For more information about the ingredients, please navigate to the individual product pages. See "what the set includes".


Made in Mexico
Mexican natural cosmetics
We are a carbon neutral, social and Mexican company. Our recipes are based on the knowledge of the indigenous, Mexican cultures, such as the Aztec and Maya.
More product recommendations
You might also like this
This product has no reviews yet.